In a whirlwind of events at OpenAI, the leading artificial intelligence company behind the popular ChatGPT, investors are striving to bring back the recently ousted CEO, Sam Altman. This latest development reveals the significant impact Altman has had on the organization and the efforts being made to reinstate him.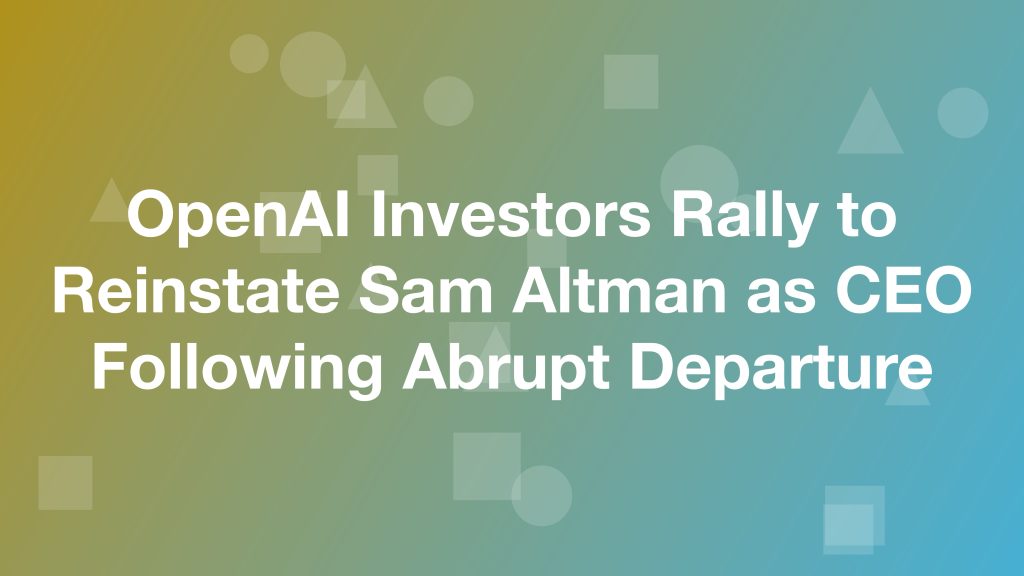 According to insiders familiar with the matter, Altman is seriously considering the prospect of returning to OpenAI. However, he has expressed his desire for a new board, signaling his intention to enact change within the company's leadership structure. Additionally, Altman has been engaged in discussions about potentially launching a new venture that would welcome former OpenAI employees. At present, he finds himself at a crossroads, deliberating between these two enticing options.
The decision regarding Altman's future role at OpenAI is expected to be imminent. Leading shareholders in the company, including technology giant Microsoft and venture firm Thrive Capital, are actively supporting and facilitating efforts to reinstate Altman. Microsoft, as OpenAI's primary financial backer, has invested a whopping $13 billion into the company, underscoring the significance of their commitment. Thrive Capital, on the other hand, stands as the second-largest shareholder in OpenAI.
Crucially, it has been reported that other investors in the organization are also rallying behind these endeavors. This united front reflects the recognition and admiration investors hold for Altman's leadership style and expertise in the field of artificial intelligence.
The recent upheaval at OpenAI unfolded when Altman was abruptly ousted by the company's board. The exact reasons for his dismissal remain somewhat murky. However, insider sources reveal that tensions had been brewing for weeks regarding the rapid expansion of OpenAI's commercial offerings. Some board members believed that these initiatives were increasingly straying from the company's initial mission of developing safe AI. This conflict likely played a pivotal role in Altman's dismissal.
While the events surrounding Altman's departure and potential return unfold, it is important to acknowledge the impact he has had on OpenAI. As CEO, Altman has undoubtedly steered the company toward significant advancements, establishing it as a prominent player in the field of artificial intelligence. His vision and strategic decisions have propelled OpenAI to the forefront of the industry, garnering substantial investments and partnerships along the way.
As the fate of OpenAI hangs in the balance, the efforts to reinstate Sam Altman highlight the trust and confidence investors have placed in his leadership. Whether he returns as CEO or embarks on a new entrepreneurial journey, Altman's expertise and vision are bound to shape the future of AI. The unfolding chapters of this evolving story will undoubtedly have far-reaching consequences for OpenAI, its employees, and the broader artificial intelligence community.