In a series of events that shook the tech world, Sam Altman, the co-founder and CEO of OpenAI, faced an abrupt termination from the company he helped build. This timeline article delves into the intricate details of Altman's sudden departure from OpenAI, a leading force in AI innovation, and his rapid transition to a new role at Microsoft. We will explore the behind-the-scenes dynamics, the decisions made by OpenAI's board, and the subsequent reactions and actions by key players in this unfolding drama.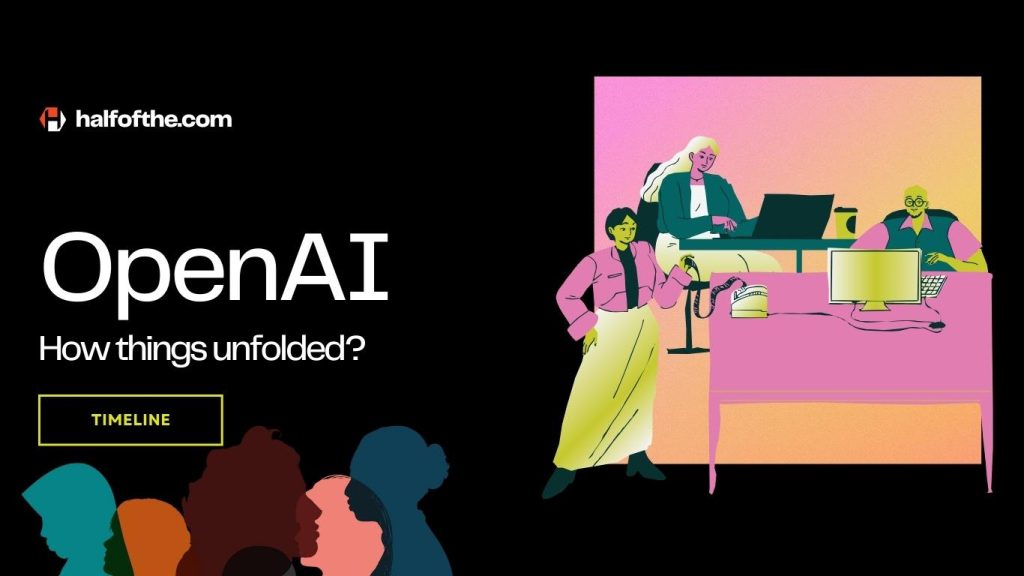 November 22, 2023 – Altman's Return and New Board Formation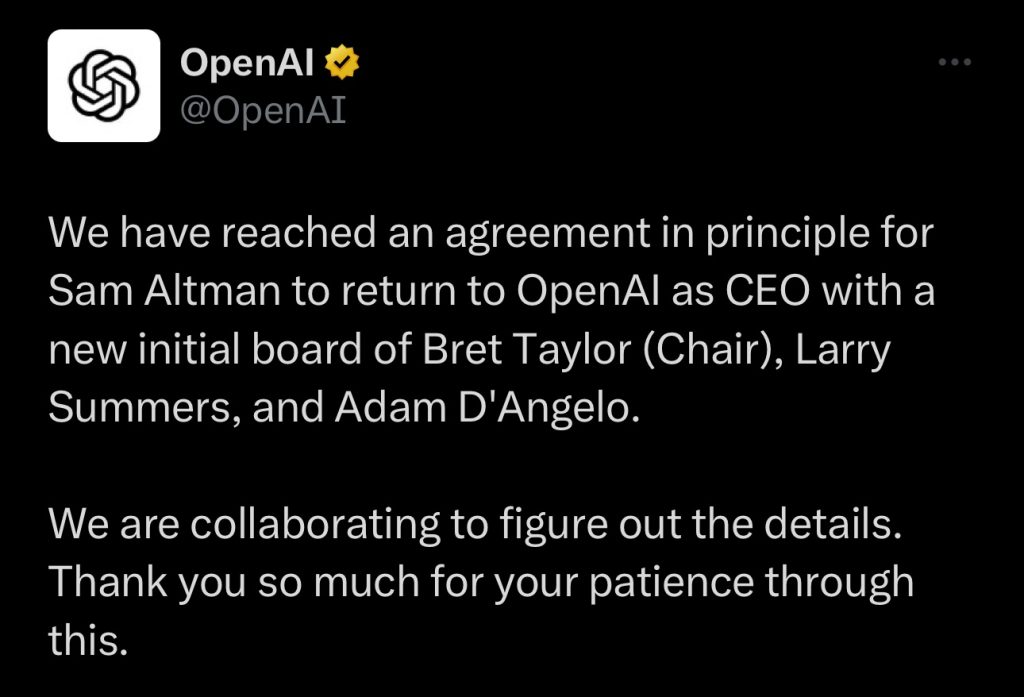 OpenAI's Announcement: OpenAI confirms via Twitter that Sam Altman will return as CEO, with a new board comprising Bret Taylor as Chair, Larry Summers, and Adam D'Angelo.OpenAI Tweet: "We have reached an agreement in principle for Sam Altman to return to OpenAI as CEO with a new initial board of Bret Taylor (Chair), Larry Summers, and Adam D'Angelo."
Altman's Reflection: Altman shares insights into his brief time with Microsoft and the influence of the new board's formation on his decision to return to OpenAI.
November 21, 2023 – Board Discussions and Internal Conflict
Negotiations for Altman's Return: Bloomberg reports on ongoing discussions between Altman and Adam D'Angelo, with potential involvement from other board members.
Board Conflict over a Paper: The New York Times sheds light on internal conflicts, reporting Altman's attempted removal of board member Helen Toner due to her co-authored paper critical of OpenAI.
November 20, 2023 – Microsoft Move and Employee Reaction
Joining Microsoft: Altman and Brockman announce their plans to join Microsoft to lead a new AI research team.
Sutskever's Regret: Ilya Sutskever expresses his regret over the board's decision in a tweet.Sutskever's Tweet: "I deeply regret my participation in the board's actions. I never intended to harm OpenAI."
Employee Threats to Resign: Over 650 OpenAI employees threaten to resign unless the board steps down and reinstates Altman.
Merger Considerations with Anthropic: Discussions about a potential merger with Anthropic, including an offer to Amodei to replace Altman as CEO, take place.
November 19, 2023 – Altman at OpenAI HQ and Board Resistance
Altman's Expected HQ Meeting: Reports indicate Altman is scheduled to meet at OpenAI's San Francisco headquarters, with expectations of his reinstatement.
Stalled Board Negotiations: Bloomberg reports on resistance within the board against reinstating Altman.
November 18, 2023 – Brockman's Demotion and Investors' Pressure
Murati Informed of Altman's Firing: Brockman reveals that CTO Mira Murati was informed of Altman's impending dismissal.
Investors Demand Altman's Return: Investors, reportedly furious, exert pressure on OpenAI's board to reinstate Altman, with Microsoft's CEO Satya Nadella showing sympathy.
November 17, 2023 – The Initial Shake-Up
Brockman Demoted: Greg Brockman is demoted from his role as chairman after a call with Sutskever.
Altman's Firing Announced: OpenAI's blog post officially announces Altman's firing.
All-Hands Meeting: Sutskever defends the decision to oust Altman in an all-hands meeting, dismissing suggestions of a hostile takeover.
Microsoft's Statement: Nadella reaffirms Microsoft's commitment to its partnership with OpenAI.
Brockman Announces Resignation: Following the day's events, Brockman announces his resignation from OpenAI.
Senior Researchers Resign: Senior researchers, including Jakub Pachocki and Aleksander Madry, resign from OpenAI in response to the board's decisions.
November 16, 2023 – The Prelude to the Crisis
Sutskever Initiates Discussion with Altman: A crucial meeting is scheduled between Sutskever and Altman, setting the stage for the subsequent events.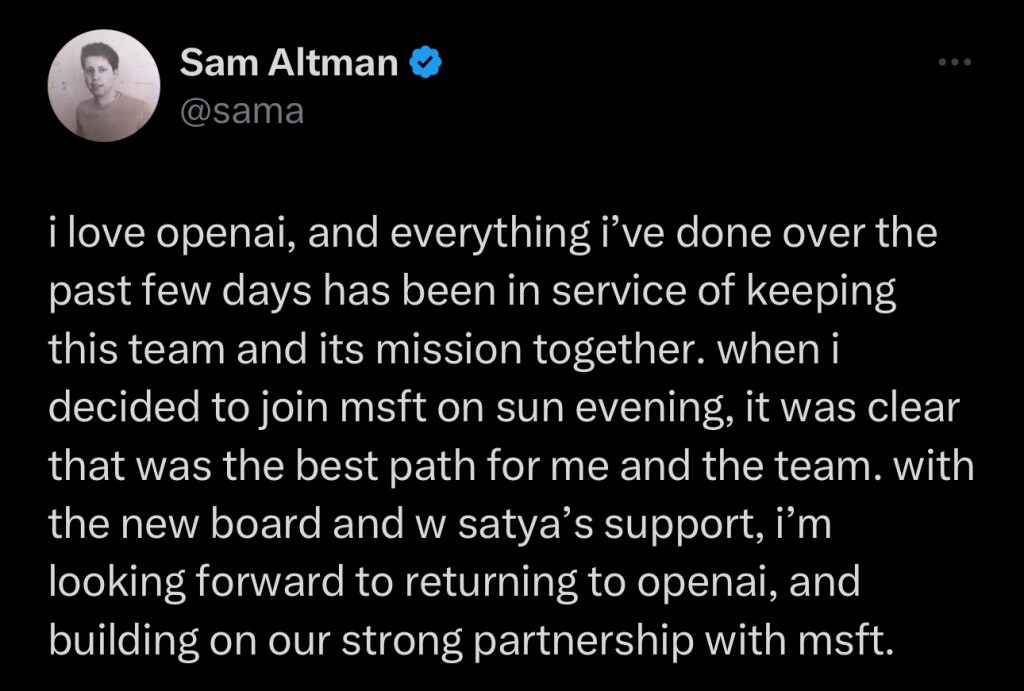 Context and Implications
OpenAI's Evolution: Founded in 2015 by Altman and others, including Elon Musk, OpenAI initially pledged open access to its research but shifted to a profit-led model in 2019.
Microsoft's Role: As a major shareholder in OpenAI, Microsoft's decision to employ Altman and Brockman represents a significant move in the AI industry.
Industry Impact
Sam Altman's Influence: Altman is a key figure in AI research, and his move to Microsoft, along with Brockman, positions Microsoft as both a major shareholder in OpenAI and a direct competitor with its own AI research team.
Future of AI Research: This development underscores the dynamic and competitive nature of AI research and commercialization, signaling more intense competition in the field.
Issues inside OpenAI
CEO Candidate Offers Rejected: Before Emmett Shear was appointed as interim CEO, OpenAI's remaining board members offered the position to two other prominent figures: Nat Friedman, former CEO of GitHub, and Alex Wang, CEO of Scale AI. Both declined the offer. Additionally, the board considered Dario Amodei, CEO of Anthropic, a competitor to OpenAI, proposing a possible merger between the two companies.
Reasons Behind Altman's Firing: Ilya Sutskever provided two reasons to employees for Sam Altman's firing: firstly, Altman had assigned the same project to two different people; secondly, he allegedly gave conflicting opinions about a staff member to two board members.
Sutskever's Change of Heart: After a deeply emotional conversation with Anna Brockman, the wife of Greg Brockman, Sutskever, who had initially voted for Altman's firing, began advocating for Altman's reinstatement. It's noteworthy that Sutskever officiated the civil ceremony of the Brockmans at OpenAI's offices in 2019.
These updates continue to underscore the tumultuous and complex situation within OpenAI, reflecting the dynamic and often unpredictable nature of leadership and decision-making in high-tech industries, especially in the rapidly evolving field of AI.
The departure of Sam Altman from OpenAI and his subsequent move to Microsoft marks a significant shift in the landscape of AI research and development. This transition not only highlights the volatile nature of leadership within tech giants but also signifies a potential change in the direction of AI innovation and collaboration. As the industry continues to evolve at a breakneck pace, the impact of these events will be closely watched by those invested in the future of artificial intelligence.
This is an ongoing story, stay tuned to this page to find more.