Apple's Tap to Pay feature has made its way to France, allowing merchants of all sizes to use their iPhones as a convenient and secure payment terminal. This exciting announcement follows the initial launch of Tap to Pay in the United States in February 2022. With Tap to Pay, iPhones can accept payments through Apple Pay, contactless credit and debit cards, and other digital wallets.
One of the key advantages of Tap to Pay is its commitment to privacy and security. All transactions made through Tap to Pay are encrypted, meaning that Apple has no access to information about the purchases or the individuals who made them. This ensures that both merchants and customers can trust the integrity of the payment process.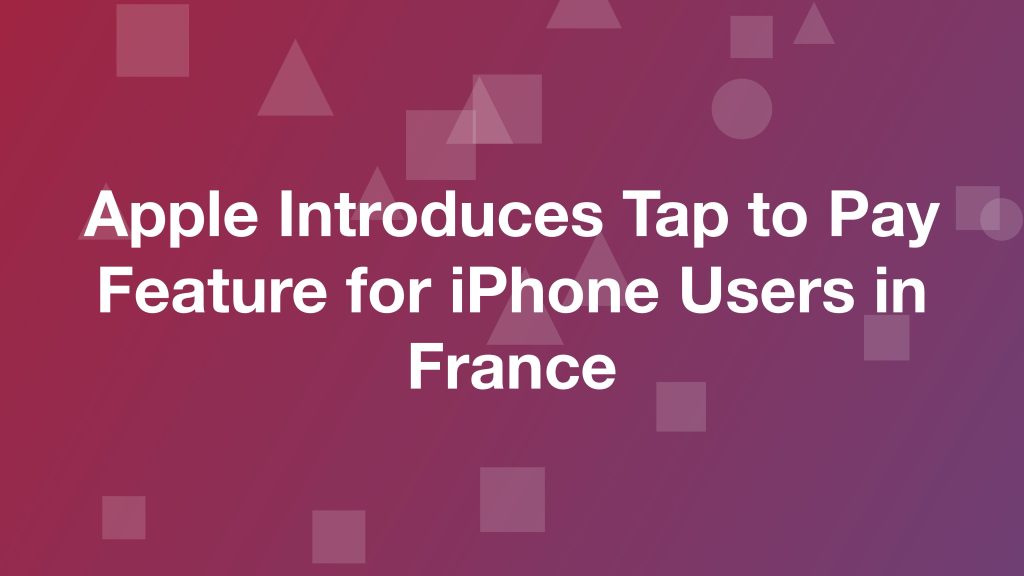 What sets Tap to Pay apart is that no additional hardware or credit card machine is required. The feature utilizes near-field communication (NFC) technology to securely authenticate contactless payments. Additionally, Tap to Pay supports PIN entry, making it accessible to a wider range of users.
Jennifer Bailey, Apple's Vice President of Apple Pay and Apple Wallet, expressed her excitement about bringing Tap to Pay to merchants in France. She underscored the simplicity, security, and confidentiality that merchants can enjoy while accepting contactless payments using Tap to Pay on their iPhones. France, with its high adoption rate of contactless payments, is an ideal market for this innovative feature.
To support Tap to Pay in France, Apple has partnered with leading financial institutions and payment processing companies. The banking group BPCE, along with Adyen, myPOS, Revolut, SumUp, Viva Wallet, and Worldline, now offer Tap to Pay to French customers. And this list is set to grow as BNP Paribas, Crédit Coopératif, Market Pay, Stancer, and Stripe are also preparing to join the Tap to Pay ecosystem.
To leverage Tap to Pay on an iPhone, merchants need an iPhone XS or a newer model. The process for customers is straightforward: they can simply use any contactless payment method they prefer. Sellers just need to open the app, register the sale, and present their iPhone to the buyer for a seamless transaction.
France joins a growing list of regions that support Tap to Pay, including the United Kingdom, Australia, Taiwan, Brazil, Ukraine, and the Netherlands. Apple's dedication to expanding this feature globally demonstrates their commitment to providing merchants and customers alike with a convenient and secure payment experience.
With Tap to Pay on iPhone now available in France, merchants have a powerful tool at their disposal to accept contactless payments. The combination of Apple's technology and the widespread adoption of contactless payments in France makes this a significant development for merchants in the country. It's yet another example of Apple revolutionizing the way we make purchases and manage transactions in our daily lives.