Last week, Google made an announcement that excited Android users around the world – the release of Android 14 QPR2 Beta 1. This beta version marked the beginning of the December Pixel Feature Drop, bringing with it a new feature in development called "Private Space." The inclusion of this feature has sparked curiosity and anticipation among Android enthusiasts.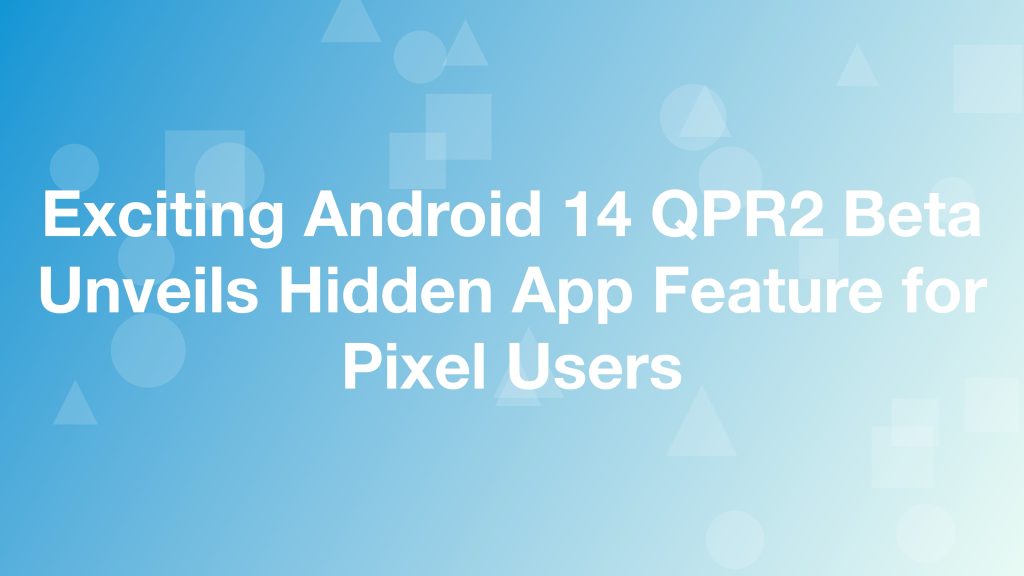 According to reputable sources like Wccftech, the Android 14 QPR2 Beta 1 includes a new setting page specifically dedicated to the "Private Space" feature. This feature aims to enhance the safety and security of Android devices. Once it is officially rolled out, users will be able to create a new user profile within Android called "Private Space." This unique space allows users to hide certain apps and other items, ensuring their privacy and confidentiality.
One advantage of "Private Space" over similar features offered by other Android manufacturers is that it creates an entirely new profile within the system. By doing so, it provides users with an additional layer of security and control. For example, Samsung's Secure Folder does not offer the same level of separation.
Pixel users will soon have the ability to create or delete a "Private Space" as they please. This flexibility allows users to adapt the feature to their personal needs and preferences. Additionally, a few toggles will be available to users, enabling them to unlock "Private Space" using the screen lock and make it visible whenever required.
The inclusion of "Private Space" in the Android 14 QPR2 Beta 1 release suggests that it will likely be offered to compatible Pixel users when the December Feature Drop is officially launched next month. However, it's important to note that if you come across "Private Space" after installing the latest QPR beta on your Pixel phone, it will not be fully functional until next month.
In the past, Google has typically released its updates on a regular schedule, often targeting the first Monday of the new month. For example, we could have expected the December Feature Drop to be available on December 4th, as per previous patterns. However, Google has recently deviated from this predictable release schedule, making it challenging to determine an exact date. Despite this, I would suggest keeping an eye out for updates around December 4th while keeping our fingers crossed for an on-time release.
As with any software release, Google has encountered a few hiccups along the way. The launch of Android 14 QPR2 Beta 1 last week raised concerns as the builds for the new Pixel 8 and Pixel 8 Pro models were noticeably absent. Fortunately, Google assured users that the update for the two latest Pixel models would be pushed out soon, resolving any disappointment surrounding their initial exclusion.
All in all, the introduction of "Private Space" in the Android 14 QPR2 Beta 1 release signifies Google's commitment to delivering enhanced security and privacy features to its users. With the December Feature Drop just around the corner, Pixel users can look forward to exploring the potential of this exciting new addition to the Android ecosystem. Stay tuned for updates and keep your devices up to date for the best Android experience possible.