In a surprising turn of events, OpenAI, the renowned AI startup responsible for ChatGPT and other popular AI-powered technologies, made a bold move on Friday by removing its CEO, Sam Altman. While the decision seemed well within the rights of the board, the situation has unveiled a deep-seated unease among investors, partners, and employees about the board's exercise of power. Perhaps unexpectedly, Altman's charismatic influence and his prominent role in Silicon Valley's startup scene have contributed to a strong cult of personality surrounding him.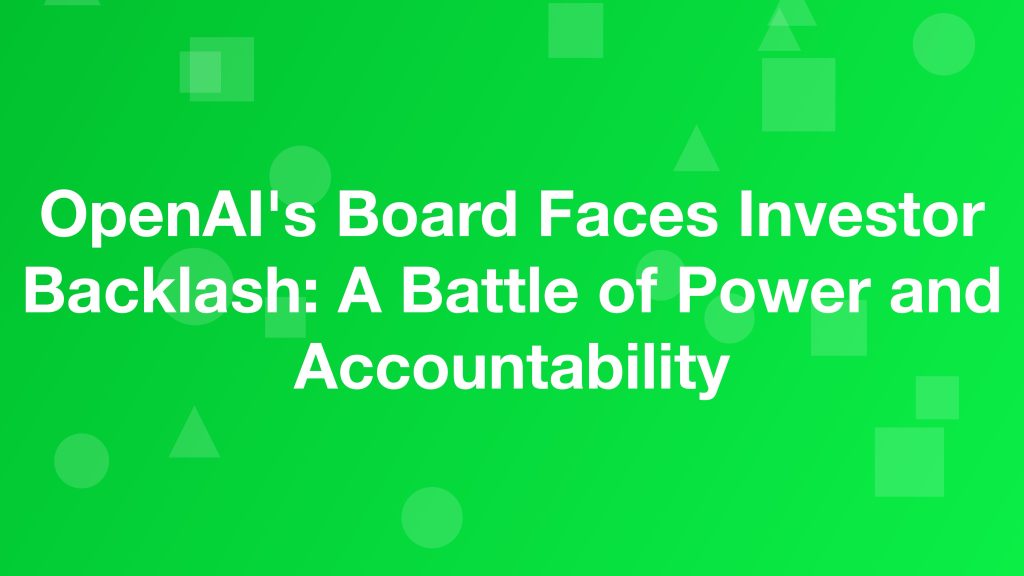 The repercussions of Altman's departure were swift. Within 24 hours, reports began to surface suggesting that the OpenAI board was in talks to reinstate Altman as CEO. It appears that the backlash from investors and the ensuing panic played a significant role in influencing the board's swift reevaluation of their decision. One notable player, Microsoft CEO Satya Nadella, a key partner of OpenAI, expressed his outrage upon learning about Altman's departure. Nadella pledged his support to Altman and has been actively working to pressure the board into reversing their course of action. Microsoft, with its substantial leverage, holds the ability to shape OpenAI's future through its significant investment.
Amidst this turmoil, some venture capital backers of OpenAI are contemplating legal action against the board for what appears to be a lack of transparency. Important investors such as Khosla Ventures and LinkedIn co-founder Reid Hoffman, a former OpenAI board member, received no prior notice of the decision to remove Altman. Microsoft, in particular, holds significant influence due to its substantial investment, part of which is in the form of cloud compute purchases. Retracting these credits, along with the rest of the cash investment, could place OpenAI in a financially precarious position, especially considering their need for capital to support the costs of running and training AI systems.
As the OpenAI board grapples with its next move, notable AI researchers and executives are resigning. OpenAI's president and co-founder, Greg Brockman, resigned shortly after the board stripped him of his position as chair. Furthermore, three senior researchers, including the director of research, Jakub Pachocki, and the head of preparedness, Aleksander Madry, departed soon after Brockman. It is also rumored that more employees are tendering their resignations.
The situation is perceived as a power struggle between two board members, Quora CEO Adam D'Angelo and Sutskever, and Altman, with an unacceptable level of collateral damage. Sutskever emphasized during a company-wide meeting on Friday that removing Altman was necessary to safeguard OpenAI's mission of utilizing AI for the benefit of humanity. His statement suggested that Altman's commercial ambitions were beginning to unsettle the board, responsible for governing OpenAI's monetization strategy, and impacting the company's core humanitarian objectives.
However, the response from the tech community and within OpenAI itself was overwhelmingly supportive of Altman. Numerous high-profile individuals expressed their backing for Altman, further complicating the board's decision.
As Altman and Brockman explore new ventures focusing on AI chips, and with the uncertainty surrounding OpenAI's employee stock sale, the board faces an uncomfortable about-face. Although Sutskever and the rest of the board believed their decision to remove Altman was justified, it becomes evident that it wasn't truly their decision to make. The board now finds itself at a critical juncture, pressured to navigate a course correction amidst a storm of dissent.